Full Mouth Dental Implants (All on 4) with Digital Implants Workflow – Avoidance of Long-term Effect of Losing Teeth
All on 4 or full mouth dental implants with digital workflow is a solution to help preventing consequences after tooth loss. Enhance your appearance and quality of life as they look and function just like natural teeth.
Health Benefits of All on 4 dental implants treatment 
Missing teeth can lead to many dental consequences. Full mouth implants (All on 4) are a good solution to prevent these problems. Though you can't see it happening, your teeth are always on the move. Tooth loss cannot only affect your smile, but it has an impact on your remaining teeth as your teeth may shift to fill the space in your mouth. Losing a tooth is bound to be upsetting. The damage it can cause, such as;
Chewing ability: impact of tooth loss on chewing ability can cause the impact on digestive function because of food not being chewed adequately. They may also alter their diet or eating efficiency and, thereby fail to provide the body with adequate nutrition.

Missing tooth / teeth: makes it difficult for chew some food so it needs to be avoided. This can cause inadequate amount of food intake and nutrition leading to weight loss and weakness due to lack of nutrition.

Psychological effects: feeling of sadness and depression causes less consumption on food. 

Physical appearance effects: the loss of all teeth leads to jaws with almost complete bone loss. A decrease in face height occurs as a result of the collapse of bone height when teeth are lost. The results in several facial changes.
Do not let these problems happen to you or someone you love. Stop consequences after tooth loss with All on 4 in Bangkok with digital workflow.
Done the Deal with All on 4 Dental Implants with Full Digital Workflow
Restore your teeth with full mouth implants with digital workflow, one of the best choices of implant treatment with high accuracy of implant placement, and shorter surgical time. With 3D digital software that helps guiding and analyzing implant placement positions, it minimizes the mistakes and shorten the surgical time, and less post-surgical discomfort. 
This case example of All on 4 dental implants treatment in Bangkok with full digital workflow which has completed 4 implants on upper arch and another 4 implants on lower arch with ceramic bridges to create natural look to your smile.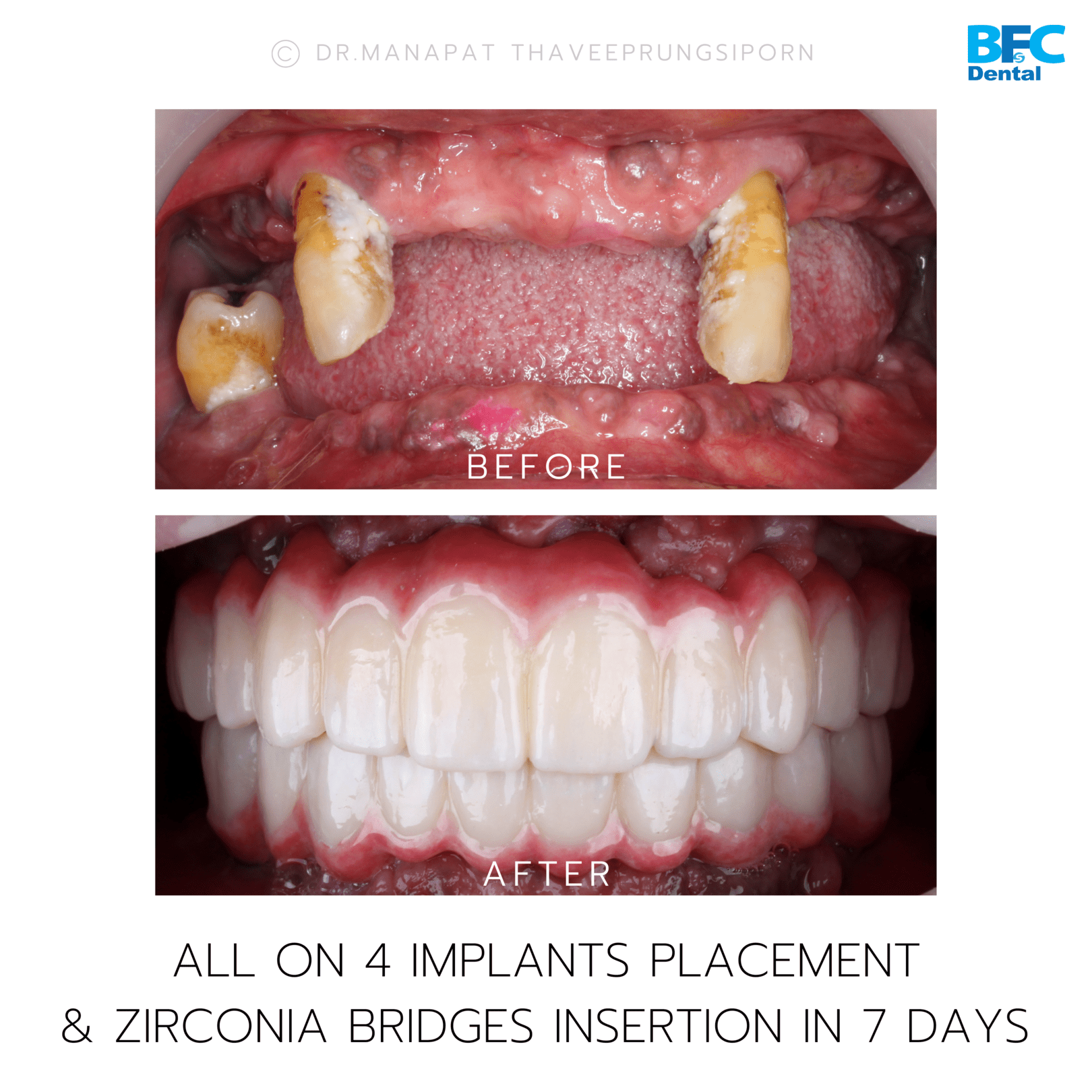 The full mouth dental implant (All on 4) procedure with digital workflow is as follow;
Implants placement:

set precise implant placement positions by using

NeoNaviguide

, a 3D surgical guide.

Getting Custom Abutments

:

to

facilitate

a natural-looking and well-fitted

crown/bridge.

Intraoral Scanning for bridge fabrication:

we use

Medit i500

scanner for accuracy on dental bridge design and fabrication.

Bridge insertion:

we use

multilayer zirconia

that facilitates durable and natural-looking bridge.
This case example of All on 4 treatment in Bangkok with digital implants workflow is a full mouth rehabilitation that is able to restore the natural function of your teeth, restore the natural smile, and protect against dental issues. Contact BFC Dental for more treatment information.