Restoe Your Loosing Teeth by Full Mouth Dental Implants
What to do if you have loose teeth? How to restore your teeth? Let's find out in this article with the case example who has undergone full-mouth restoration and wants to have beautiful teeth again.
What are the chances and causes of losing permanent teeth for those who have loose teeth? 
Loose teeth are caused by many factors, but it is certain that loose teeth are a warning sign of oral health problems that may occur in both teeth and gums. If you have the symptoms of rocking teeth, you should see a dentist immediately to assess the symptoms whether it can be treated, corrected, or replaced with implant or denture.
In this patient's case, he went to the dentist because his entire teeth were rocking, and he wanted to get the treatment because he had problems with chewing food, which greatly affects his daily life. There are some misunderstandings that full mouth implant treatment is only the option for people who have lost all teeth. However, full mouth implants can be performed not only for those who do not have teeth, but also can the malfunction teeth such as loose teeth like this patient.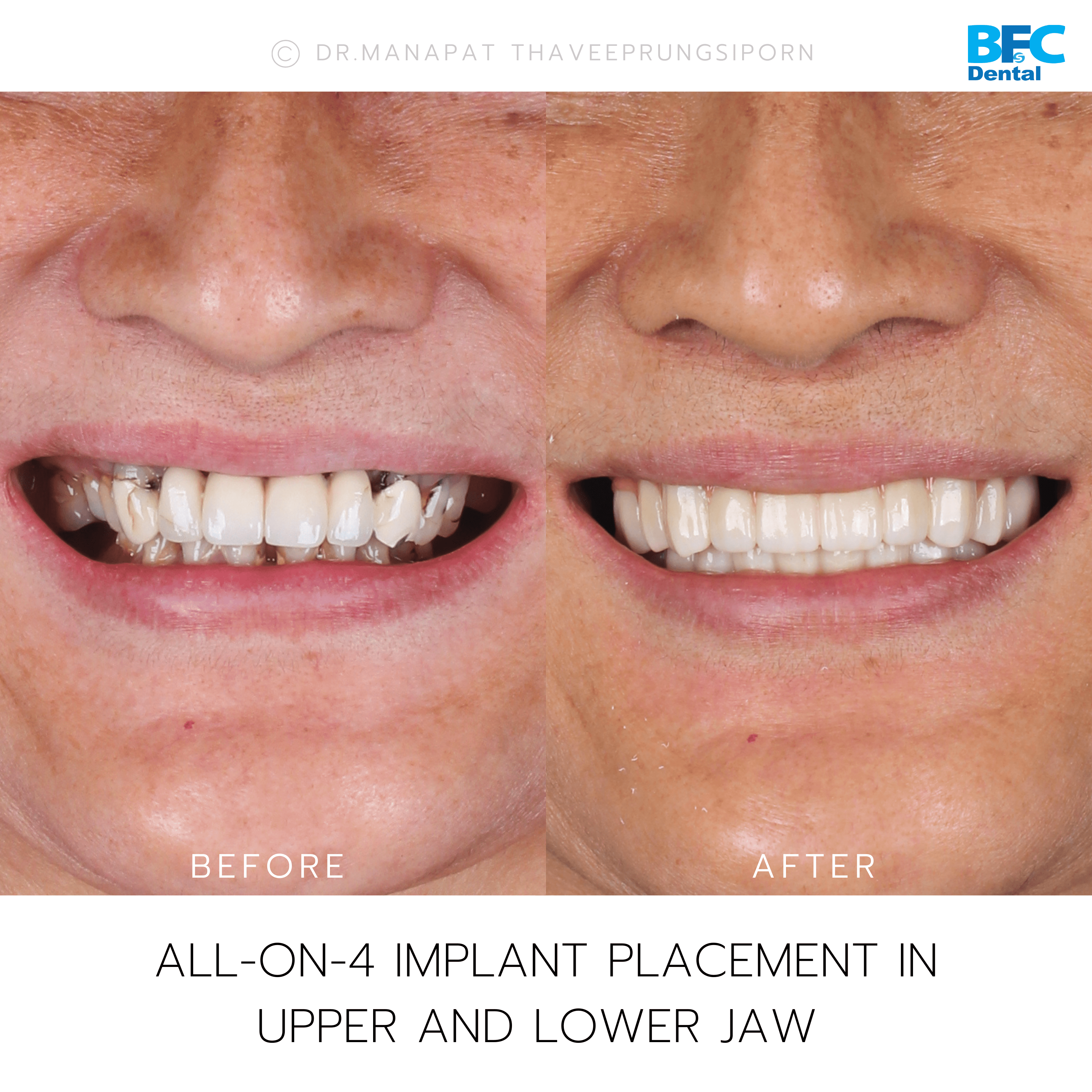 After the dentist had evaluated, he had selected a treatment plan and planned to perform All-on-4 treatment or a full mouth restoration. The patient had to have all 20 teeth extracted, which rocking teeth could not keep the permanent teeth intact and must immediately replace with the implants. The dentist inserted 4 upper implants and 4 lower implants, together with the temporary bridge within 7 days. After that, the dentist suggested an appointment for periodic examinations to install fixed dentures in the next step. This can be seen from the illustration that the patient can recover her beautiful teeth, get a confident smile back, and has gained chewing efficiency as well.
For anyone who is interested or wants to receive treatment to replace lost permanent teeth with full mouth implants (All-on-4) or single dental implant in Thailand. You can contact for more information or make an appointment for a consultation from our specialist at BFC Dental.