Full Mouth Implants Completed within 7 Days; Getting Your Instant Beautiful Smile
Worried about how long is full mouth dental procedure (All on 4 dental implants) take? This problem can be solved by computer-guided implant technology that will allow you to have beautiful teeth within 7 days.
Getting to know computer-guided All on 4 or full mouth dental implants technology
Computer Guided Implant Surgery is a computer-aided procedure with 3D software technology that helps to plan and position dental implants to increase accuracy and reduce treatment discrepancies. Therefore, the surgery is faster and can be completed within 7 days compared to conventional implant surgery.
In addition, the technology can also be an aid in surgical planning. It can analyze the amount of bone and the location of important organs in the area where the dental implant will be placed before surgery. Therefore, the surgery time can be greatly shortened.
Why computer-guided implant technology for All on 4 in Bangkok?
Computer-guided implant technology for full mouth restoration completed within 7 days is suitable for people who have lost all of their permanent teeth. As it functions as similar to natural teeth, you can enjoy eating and gain back your confidence. Here are the main reasons why you should get computer guided implant surgery;
Treatment plan and implant positioning are accurate thereby reducing the number of errors that may occur.

Shorten surgery time

Small incision, less pain, and shorten healing period

Prevents vital organs surrounding the implant from injuring.

Full mouth dental implants or All on 4 can be completed within 7 days. You can have a perfect set of teeth in just a short period of time. It is evident from this case example that was performed using computer-guided technology on 4 upper implants.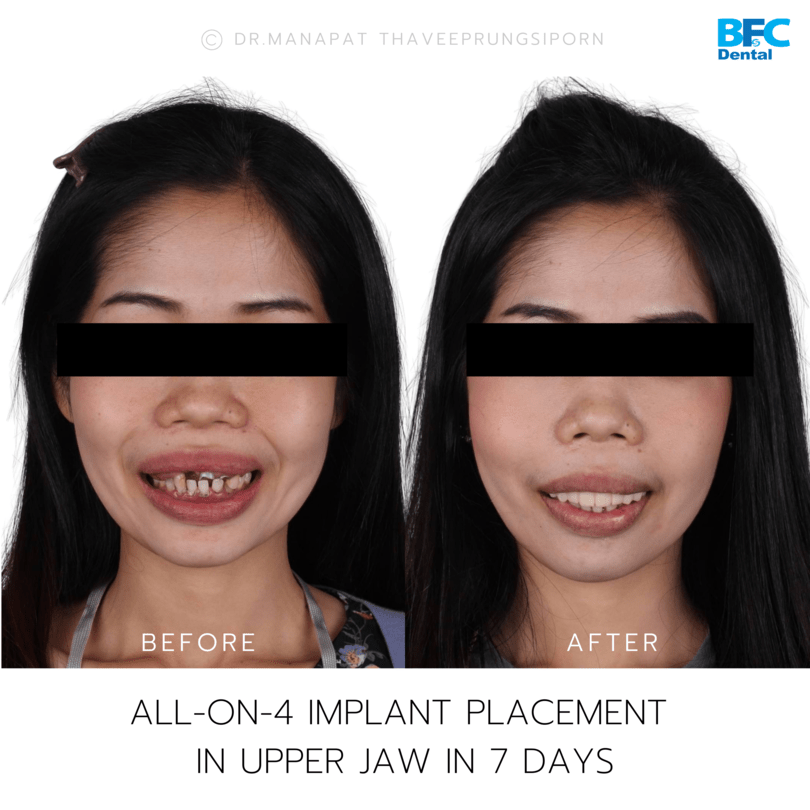 "All on 4 in Bangkok or full mouth dental implants placement in upper jaw in 7 days" – the technique planned by dentist from implant placement on upper arch until bridge insertion.
Using Neonaviguide; a 3D surgical guide


A surgical guide helps determine implant placement location which makes surgery more efficient, precise, and time-saving.

Using PMMA Restoration bridge; a high-quality dental material


PMMA Restoration bridge will be inserted within 7 days after implants placement. PMMA is made of Poly Methyl Methacrylate material, which is strong, durable, translucent, shiny, and provide tooth-like color.



Performing customized abutments or individual abutments


To suit each patient's jawbone and set the position of crowns precisely.

Intraoral Scanner: Medit i500 digital teeth scanning


Used in the design of dental bridges for convenience, speed and accuracy

.
Because teeth are one of the most important organs. Loosing teeth can link to many consequences that affect your body. Restore your teeth with All on 4 treatment in Bangkok by using full digital workflow, a good assistant that helps you have beautiful teeth within 7 days. A good choice for people who have lost all or almost all of their permanent teeth. For more details, please contact us at BFC Dental Clinic or via email contact@bfcdental.com.